Author
Ali Yunis Aldahesh is a Lecturer in Arabic Language, Literature and Culture at The University of Sydney, Department of Arabic Language and Cultures, School of Languages and Cultures, Faculty of Arts and Social Sciences. He holds a PhD in Translation and Linguistics, an MA in Translation and Linguistics, and an MA in Semitic Studies. Dr Aldahesh's area of research interest is translation and linguistics with special emphasis on the language, text and translation of the Qur'an. His published works include: English Translations of the Qur'an: A Descriptive Comparative Study in their Aspects of Disagreement (2020), The Concept of Taqwa in the Holy Qur'an as Understood by Muslim Commentators (2010) and Translating Idiomatic English Phrasal Verbs into Arabic: A Contrastive Linguistic Study (2009).
Presentation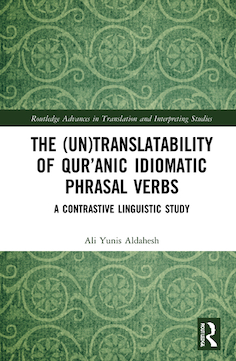 Qur'anic idiomaticity, in its all aspects, poses a great deal of challenge to the Qur'an readers, learners, commentators and translators. One of the most challenging aspects of the Qur'anic idiomaticity is Qur'anic Idiomatic Phrasal Verbs, where significances of proper Arabic verbs are entirely fused into significances of prepositions following them to produce new significances, which have nothing to do with the basic significances of those verbs and prepositions.
By examining a corpus of ten of the most influential English translations of the Qur'an, this study scrutinises the ways by which translators of the Qur'an deal with the phenomenon of Qur'anic Idiomatic Phrasal Verbs, difficulties they encounter when translating them into English, strategies they employ in their attempt to overcome the inherent ambiguity of such expressions and provide their functional-pragmatic equivalent to English readership.
The study proposes a working model for analysing and assessing translation of the Qur'anic Idiomatic Phrasal Verbs and provides a number of theoretically based recommendations for translators in general and the Qur'an translators in particular.
Contents
1. Introduction
2. (Un)Translatability of the Qur'an: A Theocratical Perspective
3. Arabic Idiomatic Phrasal Verbs: Nailing Down the Phenomenon
4. Qur'anic Idiomatic Phrasal Verbs
5. Research Methodology
6. Qualitative Data Analysis, Assessment, and Discussion
7. Conclusion
(Credit Photo : Coran bilingue arabe-persan, Iran qâjâr, signé Isma'il Al-Astarabadi, daté 1342 H. / 1924 )