The Author
Mohammad Salama teaches courses on Arabic literature and culture, and is director of the Arabic Program at San Francisco State University. He received his doctorate in Comparative Literature from the University of Wisconsin- Madison, with a minor in film (2005). He also holds an M.A. in English Literature from the 'Ayn Shams University- Egypt. His main areas of research are intellectual history and theories of Modernity, with an emphasis on comparative literary, social and cultural trends in colonial and post-colonial Europe and the Middle East. Salama's scholarly interests include classical Arabic, classical and modern Arabic literature, Arab cultural identity, Arab visual culture, colonial and post-colonial thought.
Salama has published numerous articles on comparative literature and modern Arabic literature and film in various journals, including Critical Sense, the Journal of Arabic Literature, Pacific Coast Philology, as well as the Journal of Middle Eastern and North African Cultural and Intellectual Studies. Salama is the co-editor of German Colonialism: Race, the Holocaust, and Post-War Germany published by Columbia University Press in 2011. He authored Islam, Orientalism, and Intellectual History: Modernity and the Politics of Exclusion since Ibn Khaldun ( London, I.B. Tauris: 2011).
(Source: http://meis.sfsu.edu/page/mohammad-salama)
Presentation
Mohammad Salama offers a history and analysis of Quranic and literary scholarship in 20th-century Egypt, by focusing on the work of Taha Huysan and Nasr Hamid Abu Zayd. Providing detailed analyses of texts, genres, and events that have, over the decades, inflamed the debate on the validity of literary criticism in approaching the Quran, it gives the modern reader guidance on the labyrinthine semantics that underlie the sacred text and inform scholarship.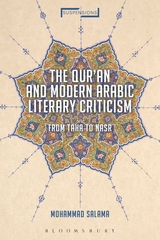 The Qur'an and Modern Arabic Literary Criticism also provides stimulating reflections on Quranic exegesis by an influential group of classical authors including al-Baqillani, al-Jurjani, al-Ghazali, and ibn 'Arabi. Over the centuries the Arabic language has experienced morphological and phonological mutations that render many dependent on dictionaries and cut off from the past linguistically. The linguistic boundaries between classical poetry and contemporary writings represents the widest breach in the history of Arabic literature.
Salama demonstrates that while this divide explains much of the intellectual poverty of 'new' approaches to Quranic exegesis, the work of these two scholars in the Arab world marks a sharp departure from so-called 'right thinking'. Through analysis of the writings of Taha and Nasr, he argues that a fresh look at the sources and a revolutionary attempt to revitalize Islam can render tradition itself an impetus for a new kind of literary criticism.
Contents
Introduction
1. The Debt to Muhammad Abduh
2. Cartesian Backfire: Taha, The Qur'an, and the Cogito
3. Taking Sides
4. The New Wave
5. Nasr Hamid Abu Zayd: The Crisis of Contemporary Arabic Literary Thought
6. Ideologies of Majaz
7. Conclusion
Bibliography
Index