Borrut (Antoine), Between Memory and Power The Syrian Space under the Late Umayyads and Early Abbasids (c. 72-193/692-809), translation by Anna Bailey Galietti, Leiden, Brill, (Handbook of Oriental Studies. Section 1 The Near and Middle East, Volume; 162), 2023, 450 p. ISBN 978-9004466319
Author
Antoine Borrut (Author), Anna Bailey Galietti (Translator)
Antoine Borrut is Associate Professor of Islamic History at the University of Maryland. He has published many articles and co-edited volumes, including Umayyad Legacies: Medieval Memories from Syria to Spain (Brill, 2010) and Christians and Others in the Umayyad State (Chicago, 2016).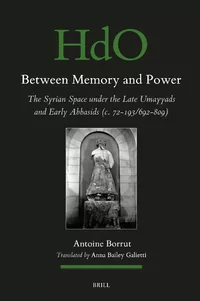 Presentation
Between Memory and Power intends to demonstrate that a robust culture of historical writing existed in 2nd/8th century Syria, and to offer new methodological approaches to access this now lost history, torn between memory and oblivion. By studying the making of Umayyad heroes or Abbasid origins-myths, this book aims to reveal the successive meanings granted to Syrian history, and to identify the various layers of historical writing and rewriting during the first centuries of Islam. Taken together, these elements make possible a history of meanings of the very space of Syria, articulated around power and its expression, which grants a clear coherence to the period, extending well beyond the dynastic caesura of 132/750.
Contents
Preface to the English Translation (2022)
Acknowledgements to the French Edition (2011)
Translator's Note
List of Illustrations
Abbreviations
Introduction
1 A Time of Writings and Rewritings: Writing History in the Syrian Space
 1.1 Narrative Islamic Sources and the Question of Their Transmission
 1.2 Writing History in the Syrian Space under the Late Umayyads and Early Abbasids
2 A Time of Writings and Rewritings: Historiographic Filters and Vulgates
 2.1 In Search of Umayyad Historiographic Projects
 2.2 Toward a Historiographic Vulgate: The History of Syria Rewritten in Abbasid Iraq
3 A Time of Writings and Rewritings: Sources on the Margins of the Historiographic Vulgate?
 3.1 Islamic Sources on the Margins of the Vulgate?
 3.2 Non-Muslim Sources: "External" or "Eastern" Sources?
4 The Second/Eight-Century Syrian Space: Between Memory and Oblivion
 4.1 Memoria as an Object of Study
 4.2 Umayyad Memoria
 4.3 Spaces of Memory
5 The Creation of Umayyad Heroes Maslama B. ʿAbd Al-Malik, Combat Hero
 5.1 The Siege of Constantinople: Military Failure, Narrative Success
 5.2 From Hero of the Byzantine Frontier to Islamic Hero?
 5.3 Eschatology and the Creation of Heroes
6 The Creation of Umayyad Heroes: ʿUmar B. ʿAbd Al-ʿAziz, the "Holy" Caliph
 6.1 ʿUmar II in the Islamic Tradition
 6.2 ʿUmar II in the Christian Sources
 6.3 Constructing the Image of the Pious Caliph: Stages and Conditions
7 Interpreting the Abbasid Revolution in the Syrian Space
 7.1 The Abbasid Revolution: Medieval and Modern Vulgates
 7.2 Syrian Memories of the Abbasid Revolution
 7.3 ʿAbd Allāh B. ʿAlī and the Allure of a Syrian Abbasid Caliphate?
8 Exercising Power in the Syrian Space in the Second/Eighth Century: A History of Meanings
 8.1 Patrimonialism and the Creation of a Caliphal Landscape
 8.2 The Mobile Exercise of Power
 8.3 Abbasid Reconfigurations
Conclusion
Sources
Bibliography
Index