Eléments biographiques
Ludovico Marracci est né à Lucques. A quinze ans, il fait partie des Ordre des Clercs réguliers de la Mère de Dieu dans le Collège romain de Sainte-Marie. Il y étudie la philosophie, la théologie et les langues anciennes dont le grec, le syriaque et l'hébreu.
Une fois diplômé, il revint à Lucca, où il enseigna la grammaire et la rhétorique. A 33 ans, en 1645, il participa à la traduction de la Bible en arabe. En 1656, il s'est vu confié la chaire d'arabe à la Sapienza de Rome, sur ordre direct du pape. Il exerça diverses fonctions dont celle de confesseur du Pape Innocent XI. Il fut une personnalité très influente à la cour. C'est à A 88 ans, en 1699, qu'il quittera la chaire d'arabe. Il meurt le 5 Février 1700.
(Source : Wikipedia italia)
– Lire également l'article "Ludovico Marracci" par E. Denison Ross, Bulletin of the School of Oriental Studies, University of London, Vol. 2, No. 1 (1921), pp. 117-123.
Notice BnF (complète)
– Titre : Alcorani textus universus ex correctioribus Arabum exemplaribus... descriptus... in latinum translatus, appositis unicuique capiti notis atque refutatione. T. 2 / . His omnibus premissus est Prodromus totum priorem tomum implens... auctore Ludovico Marracci,...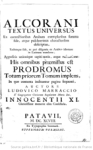 - Auteur : Marracci, Lodovico (1612-1700)
– Éditeur : ex tip. Seminarii (Patavii)
– Date d'édition : 1698
– Type : monographie imprimée
– Langue : Latin
– Format : 2 vol. in-fol.
– Format : application/pdf
– Droits : domaine public
– Identifiant : ark:/12148/bpt6k5698206k
– Source : Bibliothèque nationale de France, département Philosophie, histoire, sciences de l'homme, FOL-O2G-126 (1)
– Relation : http://catalogue.bnf.fr/ark:/12148/cb30889824s/description
– Provenance : bnf.fr
– Description : [Coran (latin). 1698]
– Thématique : Littérature latine
Ouvrage consacré à cette traduction
– RIZZI (Massimo), Le prime traduzioni del Corano in Italia : contesto storico e attitudine de traduttori : Ludovico Marracci (1612 - 1700) e la lettura critica del commentario coranico di al-Zamaḫasari (1075 - 1144), Turin, L' Harmattan Italia, ("Europa-Mediterraneo-mondo arabo"), 2007, 249 p. Cont. bibl., notes, glossaire, noms, index, texte arabe (p. 116-148) par Mahmud ibn Umar Zamakhshari, avec la traduction latine. ISBN 9788878920811
Compte rendu de l'ouvrage par Claude Gilliot
– Massimo Rizzi, Le prime traduzioni del corano in Italia. Contesto storico e attitudine dei traduttori, Ludovico Marracci (1612-1700) e la lettura critica del commentario coranico di al-Zamahsari (1075-1144), C. Gilliot, Arabica, LVI/1, 2009, p. 139-141.