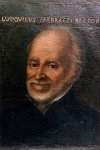 Eléments biographiques
Ludovico Marracci est né à Lucques. A quinze ans, il fait partie des Clercs réguliers de la Mère de Dieu dans le Collège romain de Sainte-Marie. Il y étudie la philosophie, la théologie et les langues anciennes dont le grec, le syriaque et l'hébreu.
Une fois diplômé, il revint à Lucca, où il enseigna la grammaire et la rhétorique. A 33 ans, en 1645, il participa à la traduction de la Bible en arabe. En 1656, il s'est vu confié la chaire d'arabe à la Sapienza de Rome, sur ordre direct du pape. Il exerça diverses fonctions dont celle de confesseur du Pape Innocent XI. Il fut une personnalité très influente à la cour. C'est à A 88 ans, en 1699, qu'il quittera la chaire d'arabe. Il meurt le 5 Février 1700.
(Source : Wikipedia italia)
Séléction bibliographique (Traduction du Coran)
– Alcorani textus universus ex correctioribus Arabum exemplaribus... descriptus... in latinum translatus, appositis unicuique capiti notis atque refutatione. His omnibus premissus est Prodromus totum priorem tomum implens... auctore Ludovico Marracci, Patavii, ex tip. Seminarii, 2 vol., 1698. Le T. II a pour titre : "Refutatio Alcorani".
Article sur cette traduction
BORRMANS Maurice, Ludovico Marracci et sa traduction latine du Coran (Ludovico Marracci and its Latin translation of the Qur'ân), Islamochristiana, 2002, n°28, p. 73-86.