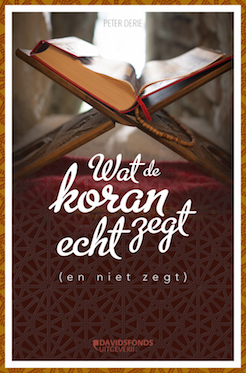 The author
Peter Derie is a specialist of arabic language and lecturer at the University of Gent (University center for language education).
Presentation
De Koran maakt het niemand gemakkelijk, gelovige noch ongelovige. Op honderden manieren zijn de verzen in de geschiedenis al uitgelegd – ook al beweren adolescenten de dag van vandaag op internetfora zelfverzekerd te weten wat de Koran letterlijk zegt. Heel wat vragen blijven echter onbeantwoord. Daar wil Wat de Koran echt zegt (en niet zegt) iets aan doen, door de koran te benaderen als een literair document.
Peter Derie analyseert het heilige boek van de moslims door aandacht te hebben voor het literaire genre, de redactiegeschiedenis, de vorm, de stijl, de diverse tekstvarianten, vertalingen, inhoudelijke thema's, recitatietechnieken, kalligrafie, leerstellingen en gebruiken die rond de koran zijn gegroeid. Hij leest de verzen als een uniek literair genre, als een meditatief commentarenboek dat met een unieke symbooltaal de gelovige dichter wil brengen bij Allah vanuit 'tekenen'. Wat de Koran echt zegt (en niet zegt) geeft een nieuw inzicht in hoe moslims hun sacraliteit verstaan, van Antwerpen tot in Jakarta.