Harvey (Ramon), Transcendent God, Rational World. A Maturidi Theology, Edinburgh, Edinburgh University Press, ("Edinburgh Studies in Islamic Scripture and Theology"), 2023, 296 p. ISBN 9781474451642
Author
Ramon Harvey is Aziz Foundation Lecturer in Islamic Studies at Ebrahim College. He is the author of The Qur'an and the Just Society (EUP, 2017) and has published articles in Journal of Qur'anic Studies, Islamochristiana and International Journal for the Semiotics of Law.
Presentation
Ramon Harvey revisits the Muslim theologian Abū Manṣūr al-Māturīdī (d. 333/944) from Samarqand and puts his system, and that of the Māturīdī school, into lively dialogue with modern thought.
Constructs a contemporary philosophical theology from the Māturīdī tradition of kalām
Reconstructs the theological system of Abū Manṣūr al-Māturīdī
Explores the development of the early and classical Māturīdī tradition
Engages with contemporary philosophy and theology
Provides a systematic treatment of the divine nature and attributes
Advances the fields of Islamic philosophy of religion and kalām jadīd
Contents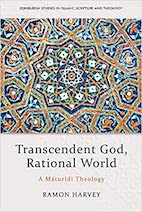 Foreword
Preface
Acknowledgements
Introduction
1. Tradition and Reason
2. Rational Reality
3. Natural Theology
4. Divine Nature
5. Omniscience and Wisdom
6. Creative Action
7. Divine Speech and the Qur'an
Conclusion
Glossary of Arabic Terminology
Bibliography
Index.
Credit Photo : Mehdi Azaiez