Marsham (Andrew) ed., The Umayyad World, London, Routledge, 2022, 636 p. ISBN 9780367564445
Editor
Andrew Marsham is Reader in Classical Arabic Studies at the University of Cambridge and a Fellow of Queens' College. His publications include Rituals of Islamic Monarchy (2009) and, with Alain George, Power, Patronage and Memory in Early Islam (2018).
Presentation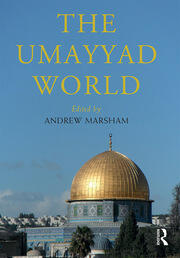 The Umayyad World encompasses the archaeology, history, art, and architecture of the Umayyad era (644–750 CE).
This era was formative both for world history and for the history of Islam. Subjects covered in detail in this collection include regions conquered in Umayyad times, ethnic and religious identity among the conquerors, political thought and culture, administration and the law, art and architecture, the history of religion, pilgrimage and the Qur'an, and violence and rebellion. Close attention is paid to new methods of analysis and interpretation, including source critical studies of the historiography and inter-disciplinary approaches combining literary sources and material evidence.
Scholars of Islamic history, archaeologists, and researchers interested in the Umayyad Caliphate, its context, and infl uence on the wider world, will find much to enjoy in this volume.
Contents
Editor's Acknowledgments
1. Introduction: The Umayyad World Andrew Marsham
Part I Political Culture
2. Living Together: Social Perceptions and Changing Interactions of Arabian Believers and Other Religious Communities during the Umayyad Period Fred M. Donner
3. Prophetic Dominion, Umayyad Kingship: Varieties of Mulk in the Early Islamic Period Sean W. Anthony
4. Ethnicity, Power and Umayyad Society: The Rise and Fall of the People of Maʿadd Peter Webb
5. Umayyad Visual Culture and Its Models Katharina Meinecke
Part II Scribes, Administration and Law
6. Aspects of Umayyad Administration Marie Legendre
7. The Social and Economic Background of Provincial Administrators in Egypt Lucian Reinfandt
8. The Umayyads and the Formation of Islamic Judgeship Mathieu Tillier
9. Al-Awzaʿi and the Umayyad Influence on Islamic Legal Development Steven Judd
10. The Surrender Agreements – Origins and Authenticity Milka Levy-Rubin
Part III Regions of the Umayyad World: Conquest, Society and Economy
11.The Umayyad North (Or: How Umayyad was the Umayyad Caliphate?) Alison M. Vacca
12. Elites in the Countryside: The Economic and Political Factors behind the Umayyad 'Desert Castles' Denis Genequand
13. The Umayyad Red Sea as an Islamic Mare Nostrum Veronica Morriss and Donald Whitcomb
14. The Umayyads and North Africa: Imperial Rule and Frontier Society Corisande Fenwick
15. Conquest and Settlement: What Al-Andalus can tell Us about the Arab Expansion at the Time of the Umayyad Caliphate Eduardo Manzano Moreno
16. Ecology, Economy and the Conquest of Khurasan Arezou Azad
Part IV Pilgrimage in Mecca and Jerusalem
17. The Transition from Late Antiquity to Early Islam in Western Arabia Harry Munt
18. Ibn al-Zubayr, the Kaʿba and the Dome of the Rock Gerald Hawting
19. Umayyad Jerusalem: From a Religious Capital to a Religious Town Suleiman A. Mourad