Hasan (Abla), The Quranic Dilemma: A Hermeneutical Investigation of Al-khidr, London, Routledge, 2022, 128 p. ISBN 978-1032384306
Author
Abla Hasan is Associate Professor of Practice of Arabic Language & Culture at the University of Nebraska, Lincoln, USA. She is the author of On Pain and Suffering: A Qur'anic Perspective (2022) and Decoding the Egalitarianism of the Qur'an: Retrieving Lost Voices on Gender (2019).
Description
This book focuses on reconnecting with the lost rich humanitarian content of the Qur'an through the hermeneutical investigation of al-Khidr's story. Through an active engagement with primary and secondary sources, the book provides a new analytic reading of this puzzling Qur'anic story.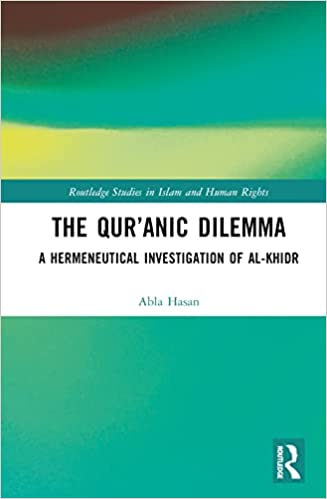 By reinvestigating the largely overlooked pluralistic message in the Qur'an, the book debunks an Islamic fundamentalism which often uses the text as a justification for ill-informed choices that can be easily seen to drag the Qur'anic text in unexpected directions. It introduces current academic controversies over proper addressing of critical issues in Islamic heritage and goes beyond mystic romanticization to clarify blind spots in reading al-Khidr's story. Through rethinking al-Khidr's story, the book addresses the exegetical classical and modern attempts to reconcile the Qur'anic unconditional endorsement of the right to life for everyone regardless of their faith, with the perplexing reference to infidelity as a justification for killing found in chapter 18.
The Qur'anic Dilemma will be of interest to all scholars of Islamic Studies, or those interested in Qur'anic interpretation, Muslim ethics, or comparative theology.
Contents
Introduction
1. A Modern Relevance of an Old Story
2. The Story
3. Does the Qur'an Endorse Killing and Religious Violence?
4. The Dilemma
5. Exegetical Attempts to Solve the Dilemma: Classical and Modern
6. Solving the Dilemma: A New Qur'anic Approach
Conclusion
Bibliography
Index
(Credit Photo: https://sufipathoflove.com/khwaja-khadir-and-the-fountain-of-life/)