Presentation
Today, Arabic-speaking Muslims, in whose tongue the Qur'an was revealed, make up no more than twenty per cent of the world Muslim population. This volume explores the endeavour by Muslims using diverse languages and from different regions to explain the meanings of the Qur'an. It introduces Qur'an commentaries and translations from the twentieth century to the present day, ranging across the regions of the traditional Islamic heartlands to the new loci of global Islam. Chapters examine works in Malay, Chinese, Urdu, Swahili, Persian, Arabic, Turkish, Bosnian, German, and English, each viewed in terms of the impact of modernity on the encounter with the Qur'an.
This book examines defining trends in Qur'an commentary worldwide, addressing questions of authorship, message, intended readership and media of communication. It looks at the continued relevance of Qur'an commentary as an authoritative Islamic tradition in a period of growing direct individual engagement with the sacred text. It also highlights debates concerning Qur'anic meaning in translation that are pertinent for many millions of Muslims, and which look set to grow in tandem with globalisation.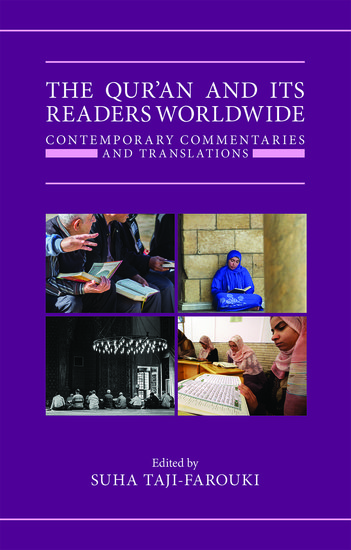 Situating Qur'anic commentarial texts in their cultural and national settings, the volume focuses attention on the relationship between language, culture and socio-political environment in Qur'an commentary and translation. It highlights the linkages between texts as well as the developments and debates which generated them, and to which they respond, whether associated with colonial realities, the challenges of nation building, or the search for ways to reconstruct Islamic culture in the face of new legal frameworks or societal models.
Editor
Edited by Suha Taji-Farouki, Senior Lecturer in Modern Islam, Institute of Arab & Islamic Studies, University of Exeter
Suha Taji-Farouki is Senior Lecturer in Modern Islam at the Institute of Arab and Islamic Studies, the University of Exeter. She has also taught at Durham University, and has held visiting positions in Oxford, London, Amman, and Berlin. Her publications include Beshara and Ibn 'Arabi: A Movement of Sufi Spirituality in the Modern World (2006).
Contributors
Suha Taji-Farouki
Enes Karić and Suha Taji-Farouki
İsmail Albayrak
Mustansir Mir
Anthony H. Johns and Suha Taji-Farouki
Travis Zadeh
Shuruq Naguib
Suha Taji-Farouki
Farouk Topan
Andreas Christmann
Michael Dillon
Content
1: Suha Taji-Farouki: Introduction
2: Enes Karić and Suha Taji-Farouki: Qur'an Translation and Commentary in Early Twentieth-century Bosnia and Herzegovina
3: İsmail Albayrak: A Turkish Exegesis of the Early Twentieth Century: Elmalılı (d. 1942) and his Hak Dini Kur'an Dili
4: Mustansir Mir: Ma'arifu'l Qur'an: The Urdu Qur'anic Commentary of Muhammad Shafi' (1897-1976)
5: Anthony H. Johns and Suha Taji-Farouki: A Public-figure Mufassir from the Malay-Indonesian World: Hamka (d. 1981) and his Tafsir al-Azhar
6: Travis Zadeh: Persian Qur'anic Networks, Modernity and the Writings of 'an Iranian Lady', Nusrat Amin Khanum (d. 1983)
7: Shuruq Naguib: 'Aisha 'Abd al-Rahman (Bint al-Shati') (d. 1998) and her Approach to tafsir: The Journey of an Egyptian Exegete from Hermeneutics to Humanity
8: Suha Taji-Farouki: The Ascendant Qur'an by Muhammad al-'Asi (1951-): An Islamist tafsir in English
9: Farouk Topan: Polemics and Language in Swahili Translations of the Qur'an: Mubarak Ahmad (d. 2001), Abdullah Saleh al-Farsy (d. 1982) and Ali Muhsin al-Barwani (d. 2006)
10: Andreas Christmann: Setting the Record Straight: Contemporary Interpretations of Q. 4:34 by German Muslims
11: Michael Dillon: Twentieth-Century Qur'an Translations in the Hui Muslim Community of China and their Antecedents: A Social History
(Illustration: http://everitte.org)