Editor
Nuha Alshaar joined the Institute of Ismaili Studies in 2009 as a Research Associate, where she focuses on ethical concepts in early Qur'an interpretation, and on the relationship between the Qur'an, tafsīr, and classical literary traditions (adab). She also teaches Islamic Intellectual History and Thought, as well as Arabic Literature at the American University of Sharjah. Dr Alshaar has taught at various academic institutions, including the School of Oriental and African Studies, University of London, and Queens University Canada in the UK. She is also a member of the Arabic-German Young Academy for Science and Humanities (AGYA). Her publications include Ethics in Islam: Friendship in the Political Thought of al-Tawḥīdī and his Contemporaries (Routledge, 2015) and the co-edited volume Sources and Approaches across Near Eastern Disciplines (Peeters, 2013).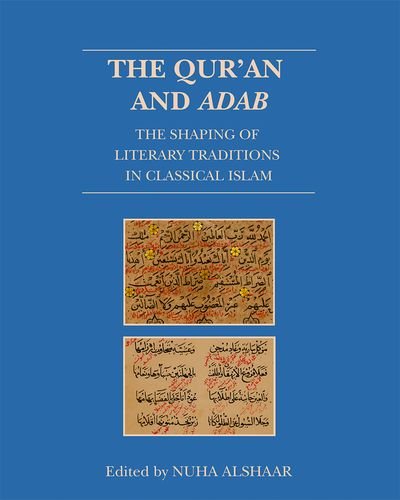 Contributors
Edited by Nuha Alshaar, Research Associate, The Institute of Ismaili Studies
Nuha Alshaar
Angelika Neuwirth
Ghassan El-Massri
Beatrice Gruendler
Geert Jan van Gelder
Sarah Bin Tyeer
Tahera Qutbuddin
Louise Marlow
Wen-chin Ouyang
Nada Saab
Denis McAuley
Steffen Stelzer
Presentation
Though there have been many studies on the Qur'an's importance in tafsīr (Qur'anic commentary), there are comparatively few which look at the impact of the Qur'an on other forms of literature. The Qur'an and Adab: The Shaping of Literary Traditions in Classical Islam bridges the gap in the scholarship by placing the Qur'an in its broader cultural and literary contexts. It explores the Qur'an's relation to classical literary traditions (adab) from pre-Islamic times until the fifteenth century CE, focusing on the various ways in which the classical literati (udabā') engaged with the Qur'anic text, linguistically, conceptually, structurally, and aesthetically, to create works that combined the sacred with the profane, thereby blurring the boundaries between formal tafsīr and adab. Through a detailed introduction and a series of case studies, the volume rethinks the concept of adab and the relation of scripture to humanistic traditions in classical Islam and questions the general classification of adab as belles-lettres. It examines the religious aesthetic found in different types of adab works—poetry, literary criticism, epistles, oratory traditions, anthologies, 'mirrors for princes', folklore, and mystical/Sufi literature. Featuring contributions by leading scholars, the collection investigate the intertextuality between pre-lslamic poetry and the Qur'an, and the innumerable approaches to the Qur'an by classical authors. It discusses the various citation techniques employed in the udabā''s borrowing of Qur'anic language, concepts, and stories. The chapters explain how the choice of these techniques was determined by the literary conventions of the particular genres and contexts within which the udabā' were working, as well as by their authorial intention, theological, and ideological outlooks. They also highlight the link between the functions ascribed to Qur'anic quotations in a specific text and the need to convey a particular message to specific audiences.
Content
Introduction: The Relation of the Qur'an to Adab: Conceptual and Historical Framework, Nuha Alshaar
Part I: The Qur'an and Classical Poetry: Intertextuality and Literary Sensibilities
1: The 'Discovery of Writing' in the Qur'an: Tracing a Cultural Shift in Arab Late Antiquity, Angelika Neuwirth
2: The Qur'an and the Character of Ancient Arabic Poetry: The Dāliyya of al-Aswad b. Ya'fur al-Nahshalī (d. 600 CE), Ghassan El-Massri
3: Abbasid Poets and the Qur'an, Beatrice Gruendler
Part II: Qur'an in Literary Criticism
4: The Qur'an in Kitāb al-Badī' by Ibn al-Mu'tazz (d. 296/908), Geert Jan van Gelder
5: 'I See a Distant Fire': Kitāb al-Iqtibās min al-Qur'ān al-Karīm by al-Tha'ālibī (d. 429/1030), Bilal Orfali and Maurice Pomerantz
Part Three: The Qur'an as an Aesthetic and Literary Model
6: The Qur'an and the Aesthetics of Adab: Ḥikāyat Abī'l-Qāsim al-Baghdādī by Abū'l-Muṭahhar al-Azdī (fl. Fifth/Eleventh Century), Sarah Bin Tyeer
7: Rhythmical Anxiety: Notes on Abū'l-'Alā' al-Ma'arrī's (d. 449/1058) al-Fuṣūl wa'l-Ghāyāt and Its Reception, Devin Stewart
Part IV: Approaches to the Qur an: Four Case Studies
8: Qur'an Citation in Early Arabic Oration (Khuṭba): Mnemonic, Liturgical, and Testimonial Functions, Tahera Qutbuddin
9: The Impact of the Qur an on the Epistolography of aAbd al-Ḥamīd (d. 132/750), Wadad Kadi
10: The Qur'an in Literary Anthologies: A Case Study of al-aIqd al-Farīd by Ibn "Abd Rabbih al-Andalusī (d. 328/940), Nuha Alshaar
11: Wisdom and Justice: The Reception of the Qur'an in Some Arabic and Persian Mirrors for Princes of the Tenth and Eleventh Centuries, Louise Marlow
Part V: The Qur'an in Popular Literary Genres
12: The Place of the Qur'an in The Sermons and Exhortations of Abū aUbayd (d. 224/838)
13: The Renditions of Solomon's Ring in Pre-modern Arabic Literature, Wen-chin Ouyang
Part VI: The Qur'an in Sufi Literature
14: For the Love of God: Sufi Negotiation of the Qur'anic Text and its Prophetic Stories in the Literature of Abū Sa"īd al-Kharrāz (d. 286/899), Nada Saab
15: Ibn "Arabī (d. 637/1240) and the Qur'an: A Series of Poems, Denis McAuley
16: Serving from Afar: Jalaluddin Rumi (d. 672/1273) on the adab of Interpreting the Qur an, Steffen Stelzer