The author
Lyall R. Armstrong, Ph.D. (2013), University of Chicago, is Assistant Professor of History at the American University of Beirut.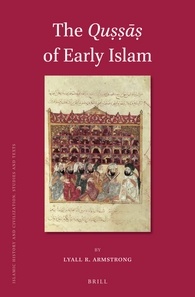 Dr. Lyall Armstrong will be joining the Department of History and Archaeology as an Assistant Professor of Islamic History. He recently received his PhD from the University of Chicago where he wrote a dissertation on a group of scholars (quṣṣāṣ) in the early period of Islam, "The Quṣṣāṣ in Early Islam." He is interested in the formation of Islamic thought, its propagation during the foundational stages of the faith and the environment into which it arose. He will be teaching in the areas of early Islamic history and thought as well as late antiquity. (Source: http://www.aub.edu.lb/nfo/new_faculty_profile/Pages/2013-14Fall.aspx)
Presentation
The Islamic qāṣṣ (preacher/storyteller) has been viewed most commonly as a teller of stories, primarily religious in nature and often unreliable. Building on material of over a hundred quṣṣāṣ from the rise of Islam through the end of the Umayyad period, this book offers the most comprehensive study of the early Islamic qāṣṣ to-date. By constructing profiles of these preachers/ storytellers and examining statements attributed to them, it argues that they were not merely storytellers but were in fact a complex group with diverse religious interests. The book demonstrates how the style and conduct of their teaching sessions distinguished them from other teachers and preachers and also explores their relationship with early religio-political movements, as well as with the Umayyad administration.
Content
Preliminary Material
Introduction
1 Qaṣaṣ: Textual Evidence
2 Quṣṣāṣ Associations: With Whom Are the Quṣṣāṣ Associated?
3 Qaṣaṣ Sessions: The Skills and Conduct of the Quṣṣāṣ
4 The Quṣṣāṣ: Conformists or Innovators?
5 The Quṣṣāṣ during the Umayyad Period
6 Conclusion
Appendix: Biographical Sketches of the Quṣṣāṣ of Early Islam
Bibliography
Index of Modern Authors
Index of Sources
Index of Subjects