Author
Michael D. Calabria is Director of the Center for Arab and Islamic Studies at the Franciscan Institute, St Bonaventure University, New York, U.S where he is also Associate Professor of Arab and Islamic Studies. He has published in the journals South Asia: Journal of South Asian Studies and Journal of Religion and Film. He completed his PhD at the Arab and Islamic Studies Centre, University of Exeter, UK.
Presentation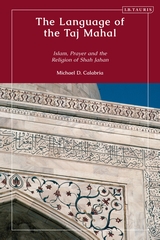 The Taj Mahal, built by the Mughal emperor Shah Jahan (1592-1666 CE) as a mausoleum for his wife Mumtaz Mahal (1593-1631 CE), is considered exceptional in the history of world architecture.This book provides a deeper understanding of the Taj Mahal and its builder by examining its inscriptions within their architectural, historical and biographical contexts. The texts adorning the Taj Mahal comprise verses from twenty-two different chapters of the Qur'an but their meaning and significance escapes most non-Muslim visitors or those unable to read them. This book will be the first dedicated solely to the inscriptions in the monument, providing translations, commentary and interpretation of the texts. As well as offering a unique approach to the study of the building, the book uses the inscriptions to expound the foundational elements of Islam, the faith of Shah Jahan and also what the Taj Mahal still means today.
Table of contents
List of Illustrations
Preface & Acknowledgements
Notes on Translation, Transliteration and Dates
Part One: Historical Background
I. The Prince and the Calligrapher
II. The Emperor and the Calligrapher
Part Two: The Texts of the Taj Mahal
The Great Gate (Southern Façade)
III. Return to Your Lord: al-Fajr
The Mausoleum Exterior
IV. The Trumpet Will Sound: Ya Sin
V. Where Are You Going? al-Takwir
VI. The Graves Are Shaken: al-infiṭār
VII. You Will Meet Your Lord: al-Inshiqaq
VIII. God Is Well Pleased: al-Bayyinah
The Mausoleum Interior
IX. Look Again! al-Mulk
X. A Seed Sends Forth Its Shoot: al-Fat?
XI. A Reward for You: al-Insan
XII. Turn to Your Lord: al-Zumar (39.53-54)
XIII. The Cenotaphs
Upper Cenotaph:
al-fuṣṣilat 41.30
al-ġāfir 40.7-8
al-muṭaffifīn 83.22-28
al-Baqarah 2.286
al-Hash 59.22
Lower Cenotaph:
al-Zumar 39.53
Al Imran 3.185
al-Mu'minun 23.118
al-ʿashr 59.22
al-'Asma' al-ḥusna
The Mosque
XIV. Purify Your Soul: al-Shams & al-Ikhla?
The Great Gate (Northern Façade)
XV. The Future Will Be Better: al-ḍuḥā
XVI. With Hardship There is Comfort: al-Shar?
XVII.Why Do You Deny Faith? al-Tin
Part Three: Conclusion
XVIII. The Religion of Shah Jahan
Chronology
Glossary
Bibliography
Indexes
1. Index of Persons
2. General Index
3. Qur'anic Citations