Toorawa (Shawkat M.), The Devotional Qur'an. Beloved Surahs and Verses, Yale, Yale University Press, 2024, 192 p. ISBN 978-0300271942
Author
Shawkat M. Toorawa is professor of Arabic literature in the Department of Near Eastern Languages and Civilizations at Yale University. He lives in North Haven, CT.
Presentation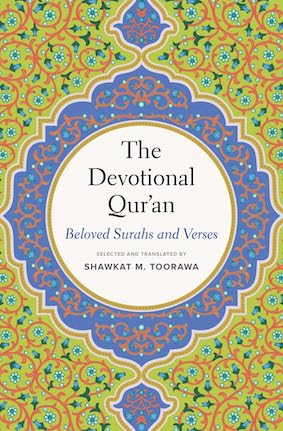 A beautifully curated and translated collection of the Qur'anic surahs and verses that are most cherished and memorized by Muslims the world over
Muslim devotional practices vary greatly over time and across regions, communities, and denominations, but they share core Qur'anic surahs (chapters) and verses rooted in the practice of earlier figures—the Prophet Muhammad, his closest Companions, the Shiite Imams, saintly figures, learned scholars, Sufi masters, local imams and religious teachers, forebears, and parents.
This volume is the first to present a curated English translation of these core passages, offering a powerful distillation of the recitational tradition that is at the heart of Muslim faith and practice. In these translations of thirty-two surahs and some forty verses, Shawkat M. Toorawa gives attention to rhythm, assonance, and end rhyme, as well as to the musicality and emotional force of the original Arabic. He organizes the selections according to devotional use and in approximately the order in which Muslims typically encounter, recite, and memorize them. Toorawa also explains the place and role of the surah, verse, or passage in Muslim devotional practice.
This book is for anyone interested in the Qur'an, its aesthetic qualities, and its place in Muslim devotion, including any Muslims seeking a sensitive English translation of these essential surahs and verses.