Oulddali (Ahmed), Raison et révélation en Islam: Les voies de la connaissance dans le commentaire coranique de Faḫr al-Dīn al-Rāzī (m. 606/1210), Leyde, Brill, ("Islamic History and Civilization, Volume: 156"), 2019, ? p. ISBN 978-90-04-40049-8.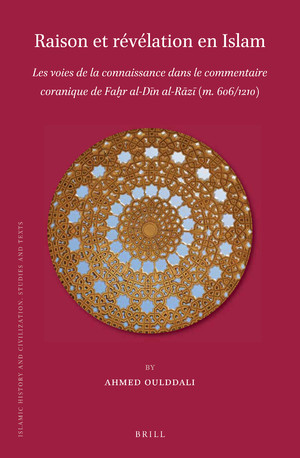 Author
Ahmed Oulddali, Ph.D. in Islamic Studies, is an associate researcher at IREMAM (Institute of Research and Studies on the Arab and Muslim Worlds) in Aix-en-Provence. He taught Islamic civilization at Aix-Marseille University. He also published several works about Islam. His research focuses on Muslim theology, Qur'anic exegesis and Islamic law.
Bibliography (selection)
Oulddali Ahmed, « Un dimmi accusé d'avoir calomnié les musulmans . Étude d'une fatwa rendue à Tlemcen en kawwâl 849/janvier 1446 », in Religious cohabitation in European towns (10m-1? Centuries), éd. St. Boisselier, J . Tolan, Turnhout, Brepols, p. 223-239.
Oulddali Ahmed, « Recevabilité du témoignage du dimmi d'après les juristes mâlikites d'Afrique du Nord », in The legal status of dimmi-s in the Islamic West (second/eighth-ninth/fifteenth centuries), éd. M. Fierro et J . Tolan, Turnhout, Brepols, 2013, p . 275-292.
Oulddali Ahmed, « Les recherches de J . Jomier consacrées au commentaire coranique de Fakhr al-Din al-Râzî », Mélanges de l'institut dominicain d'études orientales (MIDEO) 28 (2010), p. 49-71.
Oulddali Ahmed, « L'abrogation par le verset de l'épée (âyat al-sayt) selon Fakhr al-Dm al-Râzi», Annales islamologiques 43 (2009), p. 74-86.
Oulddali Ahmed, « Le traitement des traditions exégétiques anciennes dans le commentaire coranique de Fakhr al-Din al-Râzi », Lugmàn : Annales des Presses Universitaires d'Iran XVII/ 34 (2001), p . 67-111.
Presentation
Dans cet ouvrage, Ahmed Oulddali étudie les idées psychologiques et épistémologiques qui sous-tendent l'exégèse spéculative de Faḫr al-Dīn al-Rāzī. Connu pour être l'un des rares théologiens musulmans à avoir proposé une interprétation philosophique du Coran, Rāzī se révèle ici un penseur novateur, profondément convaincu de la nécessité de prendre appui sur les sciences et les méthodes rationnelles pour appréhender la révélation. Son rejet formel du littéralisme et ses multiples emprunts à la philosophie d'Avicenne apparaissent comme la conséquence d'une conception de la connaissance dans laquelle la raison joue un rôle déterminant. Basée sur une documentation très riche, comprenant de nombreuses sources arabes, la présente étude offre une vue d'ensemble des enjeux philosophiques, théologiques et exégétiques auxquels répond la pensée de Rāzī.
English
In Reason and Revelation in Islam, Ahmed Oulddali presents the psychological and epistemological ideas which underlie Faḫr al-Dīn al-Rāzī's speculative exegesis. Known as one of the few Muslim theologians to have proposed a philosophical interpretation of the Qurʾān, Rāzī appears here as an innovative thinker, deeply convinced of the need to rely on rational methods to understand revelation. His formal rejection of literalism and his multiple borrowings from Avicenna's philosophy are explained as a consequence of a conception of knowledge in which reason plays a decisive role. Richly infused with illustrative texts and original translations from Arab sources, Oulddali's book offers an overview of the philosophical, theological and exegetical issues to which the thinking of Rāzī responds.
(Credit Proto : Nasr ol Molk mosque par dynamosquito from Niort, France)