Qur'anic Studies Today
Friday, November 9 Swift Common Room 8:30 am — 5 pm
This workshop reviews the diverse methodologies currently applied in Qur'anic studies. It takes a fresh look at texts that incorporate traditional and modern, Arab and Muslim scholarship. Rather than searching for influences or deviations, the relationship between the various traditions will have to be considered as a conversation—a process of negotiating, and sometimes superseding, given versions.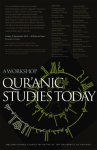 Organizer :
Angelika Neuwirth, Visiting Professor at the University of Chicago, Professor Freie Universität Berlin
Participants :
– Mehdi Azaiez, University of Notre Dame
– Catherine Bronson, Beloit College
– Emran El-Badawi, University of Houston
– Fred Donner, University of Chicago
– Sidney Griffith, The Catholic University of America
– Marcin Grodzki, University of Warsaw
– Daniel Madigan, Georgetown University
– Lauren Osborne, University of Chicago
– Tahera Qutbuddin, University of Chicago
– Gabriel Said Reynolds, University of Notre Dame
– Andrew Rippin, University of Victoria
– Behnam Sadeghi, Stanford University
– Walid Saleh, University of Toronto
– Nora Schmid, Freie Universität Berlin
– Michael Sells, University of Chicago
– Mun'im Sirry, University of Notre Dame
– Devin Stewart, Emory University
**Reception to follow**
In academic year 2012-2013 the University of Chicago will host the following visitors (the dates below are tentative) :
Professor Angelika Neuwirth will join the Department of Near Eastern Languages and Civilizations in the Fall Quarter 2012. Dr. Neuwirth teaches at the Seminar for Semitic and Arabic Studies of Freie Universität Berlin, and is widely considered to be one of the world's leading experts in the study of the Quran and Quranic exegesis. Professor Neuwirth will deliver a lecture October 12, and her work will be the subject of a workshop November 9.
Professor Robert Gleave is a Professor of Arabic Studies at the University of Exeter. He will join the Department of History in the Winter Quarter 2013. He is a specialist in Islamic law, and particularly Shi'ite legal and political theory. His recent work focuses on the process of defining legitimate and illegitimate violence in Islamic legal thought. He will teach a class entitled "Shi'ism, Messianism and Resistance." Professor Gleave will deliver a lecture January 18, 2013, and his work will be the subject of a workshop March 1.
Professor Leonardo Capezzone is an Associate Professor of the History of the Arab-Islamic Mediterranean at the University of Rome whose work covers a wide range of topics in medieval Islamic thought and culture, including the history of science/knowledge, courtly love poetry, and the engagement of medieval Islamic philosophy with western views of that philosophy (particularly those of Leo Strauss).
For more information on the initiative, please contact Harry Bastermajian at harry@uchicago.edu.
Read more : http://divinity.uchicago.edu/news/i…