Pink (Johanna), Qur'an Translation in Indonesia Scriptural Politics in a Multilingual State, London, Routlege, 2023, 230 p. ISBN 9781032497518
Editor
Johanna Pink is Professor of Islamic Studies at the University of Freiburg, Germany. Her main fields of interest are the modern transregional history of tafsir and Qur'an translations. She is the Principal Investigator of "GloQur – The Global Qur'an" and general editor of the Encyclopaedia of the Qur'an Online.
Presentation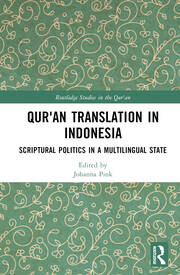 This book provides a comprehensive survey of Qur'an translation in Indonesia – the most populous Muslim-majority country in the world with a highly diverse, multilingual society.
Delving into the linguistic and political dimensions of this field, the contributors – many of whom are Indonesian scholars – employ a wide range of historical, socio-cultural, linguistic and exegetical approaches to offer fresh insights. In their contributions, the negotiation of authority between state and of non-state actors is shown to be a constant theme, from the pre-print era through to the colonial and postcolonial periods. Religious organizations, traditional institutions of scholarship and Wahhabi-Salafi groups struggle over the meaning of the Qur'an while the Ministry of Religious Affairs publishes its own Qur'an translations into many of the country's languages. The contributors also explore the influential role of the Ahmadiyya movement in shaping Qur'an translation in Indonesia. Moreover, they examine the specific challenges that translators face when rendering the Qur'an in languages with structures, histories and cultural contexts that are vastly different from Arabic.
Opening up the work of Indonesian scholars to a wider audience, this book will appeal to anyone interested in Qur'anic studies and Islam in the Southeast Asia region.
Content
Introduction
Johanna Pink
Prologue: A Historical Perspective on Indonesian Qurʾan Translation
1. Qurʾanic Arabic, Tafsīr al-Jalālayn and Javanese: Javanese Translation in an Eighteenth-Century Banten Qurʾan
Ervan Nurtawab and Fasjud Syukroni
Part I: The Politics of Qurʾan Translation
2. Ahmadiyya Translations of the Qurʾan in Indonesia: Reception and Controversy
Ahmad Najib Burhani
3. The Representation of God in Acehnese Qurʾan Translation: Wahhabi-Salafi Translations of Anthropomorphic Verses and the Verdict on Heresy
Saifuddin Dhuhri
4. Vernacularism and the Embers of Conservatism: The Production and Politicization of Qurʾan Translations
Fadhli Lukman
Part II: A Multilingual State: Beyond the Indonesian Language
5. Fathers and Sons, Angels and Women: Translation, Exegesis and Social Hierarchy in Javanese tafsīr
Johanna Pink
6. Translating the Qurʾan into Sundanese: A Translator's Personal Experiences
Jajang A Rohmana
7. Contested Authority in Madurese Qurʾan Translation: A Comparative Study of Three Versions
Masyithah Mardhatillah