Ross (Samuel), Qur'an Commentary and the Biblical Turn. A History of Muslim Exegetical Engagement with the Biblical Text, Berlin, De Gruyter, ("Islam – Thought, Culture, and Society; 3"), 2023, 250 p. ISBN 9783110669640
Author
Samuel J. Ross, Texas Christian University, Fort Worth, Texas, USA.
Presentation
The Qur'an and Bible have been called "intertwined scriptures." Indeed, the Qur'an invokes the narratives of the Hebrew Bible more often than even the New Testament. But what is the history of Muslims' exegetical engagement with the biblical text? Through a comprehensive survey of 170 Qur'an commentaries, Samuel Ross traces the first longitudinal history of the Bible in tafsīr.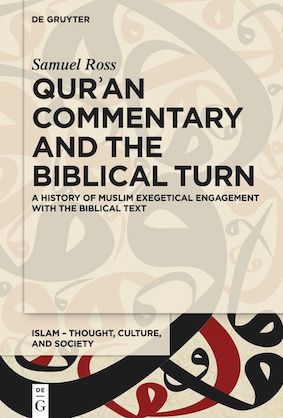 Ross demonstrates that despite the early translation of the Bible into Arabic, the utility of reading the two scriptures together, and an abundance of scriptural evidence to justify doing so, most pre-modern Qur'an commentators never consulted the Bible directly. Rather they depended upon orally-mediated information and secondary sources. During the nineteenth and twentieth centuries however, Qur'an commentators globally, and across sectarian and ideological lines, began reading and drawing upon the biblical text in an unprecedented manner.
Offering detailed case studies and rich in historical context, Ross explores this remarkable transformation that has not only generated new Muslim views of the Bible, but even new interpretations of the Qur'an.
This monograph has been awarded the annual BRAIS – De Gruyter Prize in the Study of Islam and the Muslim World.