El-Badawi (Emran Iqbal), Queens and Prophets: How Arabian Noblewomen and Holy Men Shaped Paganism, Christianity and Islam, London, Oneworld, 2022, 288 p. ISBN 9780861544455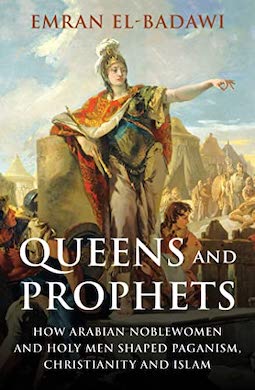 Author
Emran Iqbal El-Badawi is Program Director and Associate Professor of Middle Eastern Studies at the University of Houston, where he is also Chair of Modern and Classical Languages. He is the author of The Qur'an and the Aramaic Gospel Traditions (Routledge, 2014) and co-editor of Communities of the Qur'an, which is also published by Oneworld. He has contributed to numerous media outlets, including the New York Times, Al-Jazeera, Forbes, Christian Science Monitor and ARTE.
Présentation
Contrary to popular assumption, Arab women were instrumental in shaping world history. Between Rome's intervention in the Arabian Peninsula and the Arab conquests, noblewomen ruled independently, conducting trade and making war. Their power was often celebrated as queen, priestess and goddess. With time they delegated power to the most important holy men of their age, influencing Arabian paganism, Christianity and Islam forever.
Empress Zenobia and queen Mavia supported bishops Paul of Samosata and Moses of Sinai. Paul was declared a heretic by the Roman church. Moses began the process of mass Arab conversion. The teachings of these men survived under their queens, setting in motion seismic debates that would fracture the early churches and lay the groundwork for the rise of Islam. In Mecca, lady Khadijah used her wealth and political influence to hire a younger man then marry him against the wishes of dissenting noblemen. Her husband, whose religious and political career was influenced by her, was the prophet Muhammad.
Long overdue, Queens and Prophets is a landmark exploration of the legacy of female power in late antique Arabia.