Grasso Valentina A., Pre-Islamic Arabia. Societies, Politics, Cults and Identities during Late Antiquity, Cambridge, Cambridge University Press, 2023, . ISBN 9781009252966
Author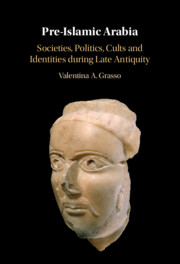 Valentina A. Grasso is an Assistant Professor at the Catholic University of America. She was previously Visiting Assistant Professor at New York University's Institute for the Study of the Ancient World, and an affiliate member of the ERC project 'The Qur'an as a Source for Late Antiquity'.
Presentation
This book delves into the political and cultural developments of pre-Islamic Arabia, focusing on the religious attitudes of the inhabitants of the Arabian Peninsula and its northern extension into the Syrian desert. Between the third and the seventh century, Arabia was on the edge of three great empires (Iran, Rome and Aksūm) and at the centre of a lucrative network of trade routes. Valentina Grasso offers an interpretative framework which contextualizes the choice of Arabian elites to become Jewish sympathisers and/or convert to Christianity and Islam by probing the mobilization of faith in the shaping of Arabian identities. For the first time the Arabians of the period are granted autonomy from marginalizing (mostly Western) narratives framing them as 'barbarians' inhabiting the fringes of Rome and Iran and/or deterministic analyses in which they are depicted retrospectively as exemplified by the Muslims' definition of the period as Jāhilīyah, 'ignorance'.
Content
1. An introduction to the study of Pre-Islamic Arabia
2. North Arabia between the late third and the fifth century: borders and conversions
3. A Late Antique Kingdom's conversion: Jews and sympathizers in South Arabia
4. The shape of the sixth century I: the South
5. The shape of the sixth century II: the North
6. The Ḥijāzī Islam: narratives and frameworks re-examined.