Editors
Edited by Alain George and Edited by Andrew Marsham
Alain George studied at the London School of Economics and the University of Oxford, and has taught at the University of Edinburgh since 2007. In 2010, he was awarded a Philip Leverhulme Prize in recognition of his research. He is the author of The Rise of Islamic Calligraphy (2010) and of numerous articles on Qur'anic manuscripts, Arabic illustrated books and the arts in early Islam.
Andrew Marsham studied at Oxford University and worked at the universities Sheffield, Cambridge and Manchester before moving to Edinburgh in 2008. He is the author of Rituals of Islamic Monarchy: Accession and Succession in the First Muslim Empire and a number of book chapters and articles on the early history and historiography of Islam and its Late Antique context.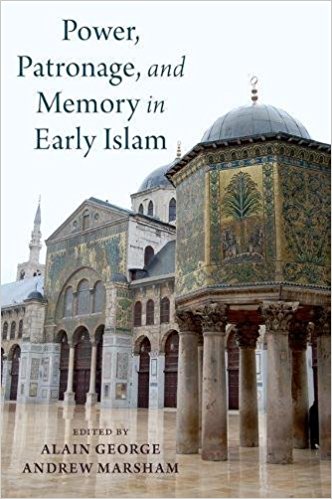 Contributors
Nadia Ali, Oxford University
Antoine Borrut, University of Maryland
Nicola Clarke, Newcastle University
François Déroche, Collège de France
Denis Genequand, University of Geneva
Alain George, University of Edinburgh
Mattia Guidetti, University of Vienna
Robert Hillenbrand, University of St. Andrews
Robert Hoyland, New York University
Andrew Marsham, University of Edinburgh
Jakob Skovgaard-Petersen, University of Copenhagen
Philip Wood, Aga Khan University
Presentation
When the Umayyads, the first Islamic dynasty, rose to power shortly after the death of the Prophet Muhammad (d. 632), the polity of which they assumed control had only recently expanded out of Arabia into the Roman eastern Mediterranean, Iraq and Iran. A century later, by the time of their downfall in 750, the last Umayyad caliphs governed the largest empire that the world had seen, stretching from Spain in the West to the Indus valley and Central Asia in the East. By then, their dynasty and the ruling circles around it had articulated with increasing clarity the public face of the new monotheistic religion of Islam, created major masterpieces of world art and architecture, some of which still stand today, and built a state apparatus that was crucial to ensuring the continuity of the Islamic polity. Within the vast lands under their control, the Umayyads and their allies ruled over a mosaic of peoples, languages and faiths, first among them Christianity, Judaism and the Ancient religion of Iran, Zoroastrianism. The Umayyad period is profoundly different from ours, yet it also resonates with modern concerns, from the origins of Islam to dynamics of cultural exchange. Editors Alain George and Andrew Marsham bring together a collection of essays that shed new light on this crucial period. Power, Patronage, and Memory in Early Islam elucidates the ways in which Umayyad élites fashioned and projected their self-image, and how these articulations, in turn, mirrored their own times. The authors, combining perspectives from different disciplines, present new material evidence, introduce fresh perspectives about key themes and monuments, and revisit the nature of the historical writing that shaped our knowledge of this period.
Contents
Acknowledgements
Introduction
Chapter 1: "God's Caliph" Revisited Andrew Marsham
Chapter 2: Paradise and Empire Alain George
Chapter 3: A Qur'anic Script from Umayyad Times François Déroche
Chapter 4: Hisham's Balancing Act Robert Hillenbrand
Chapter 5: Khanasira and Andarin in the Umayyad Period and a New Arabic Tax Document Robert G. Hoyland
Chapter 6: Two Possible Caliphal Representations from Qasr al-Hayr al-Sharqi and their Implication for the History of the Site Denis Genequand
Chapter 7: Umayyad Palace Iconography Nadia Ali and Mattia Guidetti
Chapter 8: Christians in Umayyad Iraq Philip Wood
Chapter 9: The Future of the Past Antoine Borrut
Chapter 10: Caliphs and Conquerors Nicola Clarke
Chapter 11: The Umayyads in Contemporary Arab TV Drama Jakob Skovgaard-Petersen
References
Index