Boisliveau (Anne-Sylvie) et Hilali (Asma) eds., "La récitation dans les premiers siècles de l'islam القراءة في القرون الأُولى من الإسلام", Midéo, Le Caire, 2022, ISBN 978-2-7247-0856-1 (ONLINE : https://journals.openedition.org/mideo/7697)
Presentation
L'histoire de la récitation coranique est une question peu étudiée. Ce volume est constitué d'un dossier rassemblant la plupart des communications tenues lors du troisième colloque de l'Idéo au Caire en octobre 2020 sur la récitation dans les premiers siècles de l'islam. Il offre un espace de réflexion sur les différents types de récitation au Proche-Orient de la fin du VIe siècle jusqu'au IXe siècle de l'ère commune : des contextes « religieux islamiques » (le Coran, le Hadith), « religieux non-islamiques » (le zoroastrisme, le christianisme syriaque) et « profanes » (les graffiti). Ces types de récitations servent de point de départ pour une réflexion sur les genres littéraires des textes récités, sur les techniques de récitation, mais aussi sur les acteurs de la récitation et les contextes socio-politiques liés à l'acte de la récitation.
Contents
La Direction du MIDÉO et Anne-Sylvie Boisliveau
Liminaire [Texte intégral]
Dossier – La récitation dans les premiers siècles de l'islam
Éditrices : Anne-Sylvie Boisliveau et Asma Hilali
Paul Neuenkirchen
Late Antique Syriac Homilies and the Quran [Texte intégral]
A Comparison of Content and Context
Mihaela Timuş
Sonorous Words [Texte intégral]
The Prayer and its Recitation by the Followers of Ahura Mazdā
Simon Pierre
« Dis "amen" à la prière du moine ! » [Texte intégral]
Un cas de récitation interculturelle ?
Lauren E. Osborne
Sound-History of the Quran [Texte intégral]
A Study of Mūsā ibn ʿUbayd Allāh ibn Ḫāqān (or al-Ḫāqānī)'s (d. 325/937) Qaṣīda fī al-taǧwīd
Lauren E. Osborne
The Qaṣīda fī al-taǧwīd by Mūsā ibn ʿUbayd Allāh ibn Ḫāqān (or al-Ḫāqānī) (d. 325/937) [Texte intégral]
An Annotated Translation
Frédéric Imbert
Invoquer et réciter [Texte intégral]
Traces d'oralité dans les graffiti des premiers siècles de l'Islam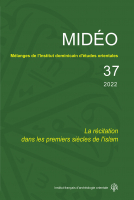 Articles
Ilyass Amharar
Encore sur Abū ʿImrān al-Ǧawrāʾī et sa profession de foi (ʿaqīda) [Texte intégral]
Nouvelle piste et découverte d'un passage inédit
Ameer Jaje
Une visite du pape en Irak, lueur d'espoir pour tout un peuple [Texte intégral]
Recensions
Guillaume de Vaulx d'Arcy
Ziad Bou Akl, Une doxographie sunnite du IVe/Xe siècle. Kitāb al-maqālāt
d'Abū al-ʿAbbās al-Qalānisī [Texte intégral]
Aziz Hilal
Christian Jambet, Le philosophe et son guide, Mullâ Sadrâ et la religion philosophique [Texte intégral]
Mateus Domingues da Silva
Damien Janos, Avicenna on the Ontology of Pure Quiddity [Texte intégral]
Philip Bockholt
L.W. Cornelis van Lit, Among Digitized Manuscripts: Philology, Codicology, Paleography in a Digital World [Texte intégral]
Farid Bouchiba
Muḥammad al-Malaṭī, al-Ǧuzʾ al-ṯāliṯ min Kitāb al-tanbīh wa-l-radd ʿalā aṣḥāb al-ahwāʾ wa-l-bidaʿ [Texte intégral]
L.W. Cornelis van Lit
Giovanni Maria Martini, ʿAlāʾ al-Dawla al-Simnānī between Spiritual Authority and Political Power: A Persian Lord and Intellectual in the Heart of the Ilkhanate [Texte intégral]
Adrien de Jarmy
Christopher Melchert, Before Sufism: Early Islamic Renunciant Piety [Texte intégral]
Emmanuel Pisani
Patrice Jullien de Pommerol, Que rien ne te trouble ! Résonnances coraniques d'un poème thérésien [Texte intégral]
Minlib Dallh
Nevin Reda & Yasmin Amin (éd.), Islamic Interpretative Tradition and Gender Justice: Processes of Canonization, Subversion, and Change [Texte intégral]
Jean-Jacques Pérennès
Daniel Rivet, Henry de Castries (1850-1927). Du Faubourg Saint-Germain au Maroc, un aristocrate islamophile en République [Texte intégral]
Nicolas Payen
Guillaume de Vaulx d'Arcy, Les Épitres des Frères en Pureté (Rasāʾil Ikhwān al-Ṣafā). Le procès animal de la domination humaine [Texte intégral]