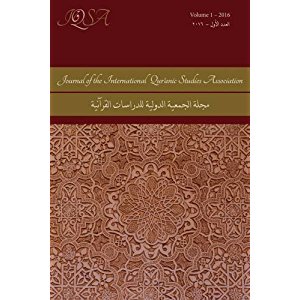 Présentation
The Journal of the International Qur'anic Studies Association (JIQSA) is a peer-reviewed annual journal devoted to the scholarly study of the Qur'an. Our goals are to
Publish scholarship of high technical quality on the Qur'an, discussing its historical context; its relationship to other religious text traditions; and its literary, material, and cultural reception.
Cultivate Qur'anic Studies as a growing field with a distinctive identity and focus, while acknowledging relevant linkages to the study of the Bible as well as Islamic tradition, including tafsīr.
Facilitate crucial conversations about the state of the field in Qur'anic Studies and the future of the discipline.
Connect diverse scholarly communities from around the world on issues of common concern in the study of the Qur'an.
We invite submission of original, quality research articles for consideration for publication in JIQSA. Methodologies of particular interest to the journal include historical-critical, contextual-comparative, and literary approaches to the Qur'an. We especially welcome articles that explore the Qur'an's origins in the religious, cultural, social, and political contexts of Late Antiquity; its connections to various literary precursors, especially the scriptural and parascriptural traditions of older religious communities; the historical reception of the Qur'an in the west; the hermeneutics and methodology of qur'anic exegesis and translation (both traditional and modern); the transmission and evolution of the textus receptus; Qur'an manuscripts and material culture; and the application of various literary and philological modes of investigation into Qur'anic style, compositional structure, and rhetoric.
Articles to be considered for publication may reflect a variety of disciplinary perspectives, but should be:
Located in and engaged with the relevant scholarly literature, building on existing knowledge.
Conscious of authorial perspective and positionality, and explicit about aims, theoretical posture, and methodology.
Reflective about their impact on larger issues and debates in the academic field of Qur'anic Studies and in broader public discourses around the Qur'an and Islam.
To submit an article for consideration for publication in JIQSA, please e-mail a complete manuscript (in the range of 8,000-12,000 words) and abstract (approx. 400 words) to jiqsa@iqsaweb.org. Authors are encouraged to conform their submission to our current style guideline.
Editors
Vanessa De Gifis, Wayne State University, USA (Head Editor)
Michael E. Pregill, Boston University, USA (Co-Editor)
Ryann Craig, Catholic University of America, USA (Copy Editor)
Editorial Board
Anne-Sylvie Boisliveau, University of Groningen, Netherlands
Michel Cuypers, Dominican Institute for Oriental Studies, Cairo, Egypt
Majid Daneshgar, University of Otago, New Zealand
Sidney Griffith, Catholic University of America (Emeritus), USA
Asma Hilali, Institute of Ismaili Studies, UK
Dan Madigan, Georgetown University, USA
John Reeves, University of North Carolina at Charlotte, USA
Uri Rubin, Tel-Aviv University (Emeritus), Israel
Keith Small, London School of Theology, UK
Devin Stewart, Emory University, USA
Sarra Tlili, University of Florida, USA
Vol. I. 2016
Content
Statement from the IQSA Board of Directors Editor's

Introduction: The Qur'ân between Bible and Tafsîr Michael E. Pregill and Vanessa De Gifis 2015


Annual Meeting Presidential Keynote Address: The Problematic of Prophecy Reuven Firestone Response to Keynote Address Ebrahim Moosa


The Current State of Qur'ânic Studies: Commentary on a Roundtable Discussion Karen Bauer


Form Criticism or a Rolling Corpus: The Methodology of John Wansbrough through the Lens of Biblical Studies Michael Graves
Did Hafsah Edit the Qur'ân? A Response with Notes on the Codices of the Prophet's Wives Sean Anthony & Catherine Bronson
"Nothing but Time Destroys Us": The Deniers of Resurrection in the Qur'ân Patricia Crone Edited by Michael E. Pregill


Bukhârî's Kitâb Tafsîr al-Qur'ân Christopher Melchert


Afterword: The Academic Study of the Qur'ân-Achievements, Challenges, and Prospects Devin Stewart and Gabriel Said Reynolds
ARABIC SECTION