Afzal Upal (Muhammad) and Cusack (Carole M.), Handbook of Islamic Sects and Movements, Leiden, ("Brill Handbooks on Contemporary Religion"), 2021. ISBN: 978-90-04-43554-4
Editors
Muhammad Afzal Upal, PhD (Computer Science, University of Alberta, 1999), is Professor at the University of Wisconsin, Platteville, USA, and researches cognitive science of religion. He is author of Moderate Fundamentalists: Ahmadiyya Muslim Jama'at in the Lens of Cognitive Science of Religion (De Gruyter Open, 2017).
Carole M. Cusack, PhD (Studies in Religion, University of Sydney, 1996), is Professor of Religious Studies at the University of Sydney, Australia, and researches contemporary religious trends and new religious movements. She is author of Invented Religions: Imagination, Fiction and Faith (Ashgate, 2010).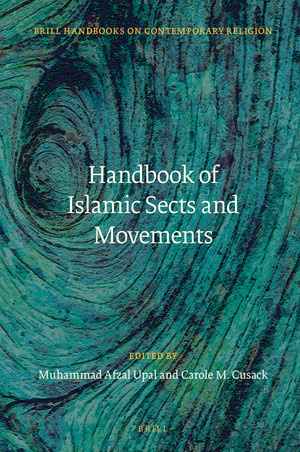 Contributors
Fathie A. Abdat, Kaarina Aitamurto, Meerim Aitkulova, Victoria Arakelova, Jon Armajani, Shaul Bartal, Jonah Blank, Steven J. Childs, Edward E. Curtis iv, Carole M. Cusack, Farhad Daftary, Marta Dominguez Diaz, William Rory Dickson, Mohammad Fazlhashemi, Ron Geaves, Antoon Geels, Najam Haider, Benson Ohihon Igboin, Hisanori Kato, Rickard Lagervall, Milad Milani, Eva Nisa, Lillith Osborn, Susan J. Palmer, Zacharias P. Pieri, Emin Poljarevic, Faried F. Saenong, Yvette Talhamy, Caroline Tee, David Thurfjell, Hussam S. Timani, Muhammad Afzal Upal, and Joas Wagemakers.
Presentation
The Handbook of Islamic Sects and Movements offers a multinational study of Islam, its variants, influences, and neighbouring movements, from a multidisciplinary range of scholars. These chapters highlight the diversity of Islam, especially in its contemporary manifestations, as a religion of many communities, theologies, and ideologies. Over five sections—on Sunni, Shia, Sufi, fundamentalist, and fringe Islamic movements—the authors provide historical overviews, analyses, and in-depth studies of large and small Islamic and related groups from all around the world. The contents of this volume will be of interest to both newcomers to the study of Islam and established scholars of religion who wish to engage with the dynamic label of Islam and the many impactful movements of the Islamic world.