Der Koran : Ausgewählt, angeordnet und im Metrum des Originals übertragen von Hubert Grimme, Michael Fisch (ed.), Würzburg, Königshausen & Neumann, 2023, 326 p. ISBN 978-3826079542
Auteur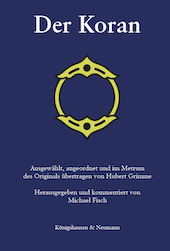 Michael Fisch lebt seit fünfzehn Jahren in der arabisch-islamischen Welt. Er lehrte und forschte von 2008 bis 2011 in Tunis, von 2012 bis 2018 in Kairo und seit 2018 in Jerusalem. Er ist Autor von zwanzig Monographien und Herausgeber von vierzig Editionen. Er hat vier Übersetzungen angefertigt sowie vier Romane und vier Gedichtbände veröffentlicht. Zahlreiche Aufsätze und Artikel sowie Vorträge an dreißig Orten weltweit runden dieses Werk vorläufig ab.
Translation (Deepl)
Michael Fisch has lived in the Arab-Islamic world for fifteen years. He taught and researched in Tunis from 2008 to 2011, in Cairo from 2012 to 2018 and in Jerusalem since 2018. He is the author of twenty monographs and editor of forty editions. He has produced four translations and published four novels and four volumes of poetry. Numerous essays and articles as well as lectures at thirty locations worldwide round off this work.
Presentation
Vor einem Jahrhundert – im Jahr 1923 – erschien in der populären Buchreihe »Dokumente der Religion« die Übertragung des Koran durch Hubert Grimme (1864–1942). Aus Anlass dieses Jubiläums erscheint dieses Werk erstmals und zudem in einer kommentierten Edition neu. Der Übersetzer eröffnete nicht nur das Orientalische Seminar an der Universität Münster, das er von 1911 bis 1929 leitete, sondern verfasste ein zweibändiges Werk über den Propheten Muhammad, das für lange Zeit als Standardwerk angesehen wurde. Überdies veröffentlichte er eine auszugsweise Übersetzung des Koran, die sich erstmals an den Vorarbeiten von Theodor Nöldeke (1836–1930) orientierte. Die Textauswahl dieser Übersetzung enthält ein Drittel des Originals und berücksichtigt vor allem den Rhythmus und im Anschluss den Reim, so wie das noch bei Joseph von Hammer-Purgstall (1774–1856) der Fall war.
Hubert Grimmes außergewöhnliche Leistung erfährt durch die vorliegende Neuausgabe ihr unverzichtbares Recht auf Wiederentdeckung. Damit erscheint hier erstmals eine kritische Ausgabe dieser besonderen Übersetzung des Heiligen Buches des Islam. Die Nummerierung der einzelnen Verse wurde durch den Herausgeber an den »textus receptus« der Kairiner Ausgabe von 1924 angepasst. Unklarheiten und Missverständnisse wurden in kommentierenden Fußnoten erläutert, zusätzliche Informationen und Hinweise hinzugegeben. Diese Veröffentlichung stellt eine kleine Sensation dar.
Translation (Deepl)
A century ago - in 1923 - Hubert Grimme's (1864-1942) translation of the Koran was published in the popular book series "Documents of Religion". To mark this anniversary, this work is being republished for the first time in an annotated edition. The translator not only opened the Oriental Seminar at the University of Münster, which he headed from 1911 to 1929, but also wrote a two-volume work on the Prophet Muhammad, which was regarded as a standard work for a long time. He also published an excerpted translation of the Koran, which was the first to be based on the preliminary work of Theodor Nöldeke (1836-1930). The text selection of this translation contains a third of the original and primarily takes into account the rhythm and then the rhyme, as was the case with Joseph von Hammer-Purgstall (1774-1856).
Hubert Grimme's extraordinary achievement has been rediscovered in this new edition. This is the first critical edition of this special translation of the Holy Book of Islam. The numbering of the individual verses has been adapted by the editor to the "textus receptus" of the Kairo edition of 1924. Ambiguities and misunderstandings have been explained in annotated footnotes, and additional information and notes have been added. This publication is a minor sensation.