Biography of Muḥammad, His Companions and the Successors up to the Year 230 of the Hijra, Eduard Sachau's Edition of Kitāb al-Ṭabaqāt al-Kabīr, Eduard Sachau (Editor), Muḥammad Ibn Saʿd (Author), Leiden, Brill, 9 vols., 2022. ISBN 9789004470026
Presentation
The Kitāb al-Ṭabaqāt al-Kabīr ( Biography of Muḥammad, His Companions and the Successors up to the Year 230 of the Hijra) by Ibn Saʿd (d. 230 A.H./845 C.E.) is the earliest extant biographical dictionary on the life of the Prophet and the early generations of Muslims. It is one of the most important historical works about the first centuries of Muslim society in Arabic. This classic Brill edition was supervised by Eduard Sachau and was originally titled Biographien Muhammeds, seiner Gefährten und der späteren Träger des Islams bis zum Jahre 230 der Flucht. This edition was originally published between 1904 and 1940.
Contributing editors
Carl Brockelmann, Josef Horovitz, Julius Lippert, Bruno Meissner, Eugen Mittwoch, Friedrich Schwally, Karl Vilhelm Zetterstéen.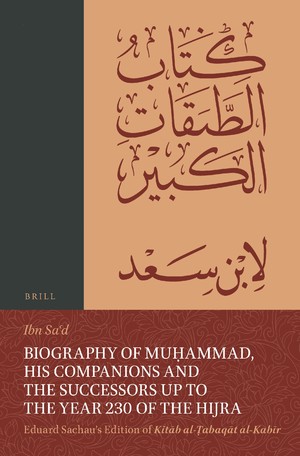 Volumes
Biography of Muḥammad, His Companions and the Successors up to the Year 230 of the Hijra: Eduard Sachau's Edition of Kitāb al-Ṭabaqāt al-Kabīr
1-1, The Biography of Muḥammad up to the Hijra
Author: Muḥammad Ibn Saʿd
Volume Editor: Eugen Mittwoch
Publication Date: 27 Jan 2022
ISBN: 978-90-04-46986-0
Biography of Muḥammad, His Companions and the Successors up to the Year 230 of the Hijra: Eduard Sachau's Edition of Kitāb al-Ṭabaqāt al-Kabīr
1-2, The Biography of Muḥammad. Events during His Time in Medina, His Physical Appearance and His Habits
Author: Muḥammad Ibn Saʿd
Volume Editors: Eugen Mittwoch and Eduard Sachau
Publication Date: 27 Jan 2022
ISBN: 978-90-04-46987-7
Biography of Muḥammad, His Companions and the Successors up to the Year 230 of the Hijra: Eduard Sachau's Edition of Kitāb al-Ṭabaqāt al-Kabīr
2-1, The Military Campaigns of Muḥammad
Author: Muḥammad Ibn Saʿd
Volume Editor: Josef Horovitz
Publication Date: 27 Jan 2022
ISBN: 978-90-04-46988-4
Biography of Muḥammad, His Companions and the Successors up to the Year 230 of the Hijra: Eduard Sachau's Edition of Kitāb al-Ṭabaqāt al-Kabīr
2-2, The Final Illness, Death and Burial of Muḥammad together with Eulogies. Biographies of Specialists in Legal Matters and the Qurʾān, Who Worked in Medina during the Lifetime of the Prophet and the Next Generation
Author: Muḥammad Ibn Saʿd
Volume Editor: Friedrich Schwally
Publication Date: 27 Jan 2022
ISBN: 978-90-04-46989-1
Biography of Muḥammad, His Companions and the Successors up to the Year 230 of the Hijra: Eduard Sachau's Edition of Kitāb al-Ṭabaqāt al-Kabīr
3-1, Biographies of Muḥammad's Meccan Warriors during the Battle of Badr
Author: Muḥammad Ibn Saʿd
Volume Editor: Eduard Sachau
Publication Date: 27 Jan 2022
ISBN: 978-90-04-46990-7
Biography of Muḥammad, His Companions and the Successors up to the Year 230 of the Hijra: Eduard Sachau's Edition of Kitāb al-Ṭabaqāt al-Kabīr
3-2, Biographies of Muḥammad's Medinese Warriors during the Battle of Badr
Author: Muḥammad Ibn Saʿd
Volume Editor: Josef Horovitz
Publication Date: 27 Jan 2022
ISBN: 978-90-04-46991-4
Biography of Muḥammad, His Companions and the Successors up to the Year 230 of the Hijra: Eduard Sachau's Edition of Kitāb al-Ṭabaqāt al-Kabīr
4-1, Biographies of the Muhājirūn and Anṣār, Who Did Not participate in Badr, but Who Converted Early, All Those Who Emigrated to Abyssinia and Took Part in the Battle of Uḥud
Author: Muḥammad Ibn Saʿd
Volume Editor: Julius Lippert
Publication Date: 27 Jan 2022
ISBN: 978-90-04-46992-1
Biography of Muḥammad, His Companions and the Successors up to the Year 230 of the Hijra: Eduard Sachau's Edition of Kitāb al-Ṭabaqāt al-Kabīr
4-2, Biographies of the Companions Who Converted before the Conquest of Mecca
Author: Muḥammad Ibn Saʿd
Volume Editor: Julius Lippert
Publication Date: 27 Jan 2022
ISBN: 978-90-04-46993-8
Biography of Muḥammad, His Companions and the Successors up to the Year 230 of the Hijra: Eduard Sachau's Edition of Kitāb al-Ṭabaqāt al-Kabīr
5, Biographies of the Successors in Medina as well as the Companions and the Successors from the Rest of Arabia
Author: Muḥammad Ibn Saʿd
Volume Editor: K. V. Zetterstéen
Publication Date: 27 Jan 2022
ISBN: 978-90-04-46994-5
Biography of Muḥammad, His Companions and the Successors up to the Year 230 of the Hijra: Eduard Sachau's Edition of Kitāb al-Ṭabaqāt al-Kabīr
6, Biographies of the Kūfans
Author: Muḥammad Ibn Saʿd
Volume Editor: K. V. Zetterstéen
Publication Date: 27 Jan 2022
ISBN: 978-90-04-46995-2
Biography of Muḥammad, His Companions and the Successors up to the Year 230 of the Hijra: Eduard Sachau's Edition of Kitāb al-Ṭabaqāt al-Kabīr
7-1, Biographies of the Baṣrans up to the End of the Second Generation
Author: Muḥammad Ibn Saʿd
Volume Editor: Bruno Meissner
Publication Date: 27 Jan 2022
ISBN: 978-90-04-46996-9
Biography of Muḥammad, His Companions and the Successors up to the Year 230 of the Hijra: Eduard Sachau's Edition of Kitāb al-Ṭabaqāt al-Kabīr
7-2, Biographies of the Baṣrans from the Third Generation up to the End and Traditionalists in Other Parts of the Islamic World
Author: Muḥammad Ibn Saʿd
Volume Editor: Eduard Sachau
Publication Date: 27 Jan 2022
ISBN: 978-90-04-46997-6
Biography of Muḥammad, His Companions and the Successors up to the Year 230 of the Hijra: Eduard Sachau's Edition of Kitāb al-Ṭabaqāt al-Kabīr
8, Biographies of Women
Author: Muḥammad Ibn Saʿd
Volume Editor: Carl Brockelmann
Publication Date: 27 Jan 2022
ISBN: 978-90-04-46998-3
Biography of Muḥammad, His Companions and the Successors up to the Year 230 of the Hijra: Eduard Sachau's Edition of Kitāb al-Ṭabaqāt al-Kabīr
9-1. Index of Persons to Whom Ibn Saʿd Dedicated Special Entries in His Ṭabaqāt
Author: Muḥammad Ibn Saʿd
Volume Editor: Eduard Sachau
Publication Date: 27 Jan 2022
ISBN: 978-90-04-46999-0
Biography of Muḥammad, His Companions and the Successors up to the Year 230 of the Hijra: Eduard Sachau's Edition of Kitāb al-Ṭabaqāt al-Kabīr
9-2. Indices, 1. Index of Names of Places and Peoples, 2. Words of the Prophet, Alphabetical Index of the Beginnings of Sentences, 3. Index of Rhymes, 4. Index of Qurʾānic Verses
Author: Muḥammad Ibn Saʿd
Volume Editor: Eduard Sachau
Publication Date: 27 Jan 2022
ISBN: 978-90-04-47000-2
Biography of Muḥammad, His Companions and the Successors up to the Year 230 of the Hijra: Eduard Sachau's Edition of Kitāb al-Ṭabaqāt al-Kabīr
9-3. Indices. Index of Persons Who Are Mentioned in the Text of Ibn Saʿd's Kitāb al-Ṭābaqāt al-Kabīr
Author: Muḥammad Ibn Saʿd
Volume Editor: Eduard Sachau
Publication Date: 27 Jan 2022
ISBN: 978-90-04-47001-9