Mårtensson (Ulrika), Al-Ṭabarī's Madhhab Jarīrī. A Paradigm of Natural Law and Natural Rights for the ʿAbbasid Caliphate,
Author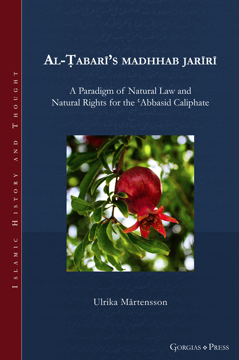 Ulrika Mårtensson has a PhD (2001) in History of Religions from the Faculty of Theology, Uppsala University, Sweden, and is professor at the Department of Philosophy and Religious Studies, NTNU-The Norwegian University of Science and Religion.
Presentation
The book analyses all extant works by Ibn Jarir al-Tabari (d. 224/839–310/923), referring to their individual methodologies; their legacy as al-madhhab al-jariri; and their scholarly and socio- political context. Through the study of al-Tabari's works, the book addresses research debates over dating the legal and scholarly institutions and their disciplines; authorship and transmission of scholarly writings; political theory and administration; and 'origins' of the Qur'an and Islam.