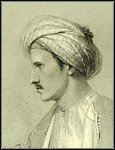 Eléments biographiques
Edward William Lane vécut à Alexandrie puis au Caire. Il y resta deux ans et demi parmi la population tout en apprenant la langue arabe. Il est retourné en Angleterre avec des notes volumineuses. Le résultat fut un ouvrage qui connut un grand succès intitulé "Manners and Customs of the Modern Egyptians" (moeurs et coutumes de la nouvelle Egypte) en 1836.
En 1840, il publia une traduction des Mille et Une Nuits. En 1842, il se consacra à un projet monumental de dictionnaire arabe-anglais. Inachevé, le "Lexicon" s'arrête à la lettre Qaf. En
1843, il publia une traduction partielle du Coran.
(Source Wikipedia)
Sélection bibliographique
– An Arabic-English lexicon : derived from the best and the most copious eastern sources ...
Williams and Norgate, 1863-1893
– Selections from the Kur-'an, Trübner, 1879