Biographical details
He was a post-doctoral Fulbright Advance Research fellow at the University of Notre Dame (August 2012-June 2013) within the framework of the Qur'an Seminar project. During his Arabicist and Islamicist career he was also a Mellon Foundation fellow (2008, Yemen/Oman) and multiple grant holder of the Polish Ministry of Science and Higher Education, Polish Ministry of Education, Erasmus Mundus programs, as well as a University of Kuwait scholarship holder (2000/2001). Member of the Polish Oriental Society and the International Qur'anic Studies Association. Expert of the Polish National Agency of Academic Exchange.
During his academic career he was also teaching Arabic and Aramaic grammar at the Arabic & Islamic Department of the University of Warsaw, Poland.
He is parallelly a sworn interpreter of the Arabic-Polish languages.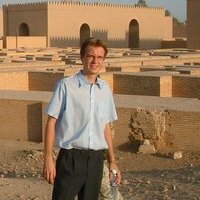 Main fields of scholarly interest
Qur'anic Studies, early history of Islam & late Antique religious studies (MENA), Semitic studies, Judaeo-Christian Studies, Syriac studies, Arabic philology, Christian-Muslim relations of the late Antique.
Bibliography (2 books and over 60 scholarly publications including the following)
– "Panteon sceptyków. Przegląd współczesnych teorii naukowych poświęconych genezie islamu" (the title in English: "Pantheon of skeptics. Review of modern scholarly theories devoted to the genesis of Islam"), Katedra Arabistyki i Islamistyki Wydziału Orientalistycznego Uniwersytetu Warszawskiego, Warszawa 2017 (414 pp.)
– Günter Lüling – Islam as a non-trinitarian faith of Semitic forefathers, [in]: Markus Gross/Karl-Heinz Ohlig (red.), Die Entstehung einer Weltreligion V. Der Koran als Werkzeug der Herrschaft, Hans Schiler & Tim Mücke GbR, Berlin/Tübingen 2020, pp. 372-423 (ISBN 978-3-89930-215-8)
– Reaching back to the Qur'ān's literary (pre-)history. Source text for the critical edition wanted, [in:] Barbara Michalak-Pikulska, Marek Piela, Tomasz Majtczak (eds.), Oriental Languages and Civilizations, Jagiellonian University Press, Cracow 2020, pp. 265-274. (ISBN: 978-83-233-4866-5)
– Yehuda D. Nevo – a comprehensive skeptical theory on the genesis of Islam, Rocznik Orientalistyczny (the Polish Yearbook of Oriental Studies), vol. LXXI, no. 1, 2018, pp. 55–95.
– Commentary to Qur'anic Passages, [in:] Mehdi Azaiez, Gabriel Said Reynolds, Tommaso Tesei, Hamza M. Zafer (eds.), The Qur'an Seminar Commentary / Le Qur'an Seminar A Collaborative Study of 50 Qur'anic Passages / Commentaire collaboratif de 50 passages coraniques, De Gruyter, Berlin / Boston 2016, pp. 19-21, 60, 92, 126, 135, 144, 161, 182, 192, 198, 216, 229, 241, 252, 257, 263, 283, 299, 313, 320, 328, 340, 403, 409, 410, 430, 431.
– Christian –Muslim Symbolism on Coins of the Early Arab Empire (7-8th century CE). An Attempt at a New Approach, Asian and African Studies, Slovak Academy of Sciences, vol. 23, no. 2/2014, pp. 255-273.
– Muslims and Islam in the Middle Eastern Literature of the Seventh and Eight Centuries AD: An Alternative Perspective of West European Oriental Scholarship, Studia Orientalia, vol. 112/2012, Finnish Oriental Society, Helsinki, pp. 1-16.
Voir en ligne : Academia.edu