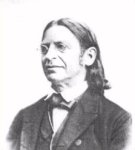 Eléments biographiques
Rabbin à Wiesbaden, il reçoit en 1833 son doctorat de l'université de Bonn. Partisan d'un mouvement de réforme du judaïsme, il en rejette les éléments nationalistes et cherche à souligner la mission des Juifs à diffuser le monothéisme et la loi morale. Il raccourcit le livre de prière, permet la musique instrumentale dans la synagogue, supprime les deuxièmes jours de repos et préconise la prière dans la langue vernaculaire. Cependant, il s'oppose à l'observance du shabbat le dimanche et refuse d'officier devant une assemblée de fidèles en rupture avec la communauté juive établie. En 1870, il devient grand rabbin de la communauté de Berlin et directeur du nouveau séminaire créé pour l'étude scientifique du judaïsme. Écrivain prolifique, son œuvre principale est Urschrift und übersetzungen der Bibel (Original et traduction de la Bible).
Il est le père de l'historien Ludwig Geiger (1848-1919).
(Source : Jewish encyclopedia)
Articles en ligne
On lira un article substantiel sur ce chercheur sur le site jewishencyclopedia
Un extrait de cet article : "While a student at Bonn, mainly encouraged by Professor Freytag, he prepared his essay on the Jewish elements in the Koran, in competition for a prize offered by the faculty. Written originally in Latin, this essay, after receiving the prize, was also published in German under the title "Was Hat Mohammed aus dem Judentume Aufgenommen?" (Bonn, 1834)."
Consulter dans son intégralité son chef d'oeuvre : "Was hat Mohammed aus dem Judenthume aufgenommen ? et le résumé de l'ouvrage sur le site de www.debate.org.uk en lisant le paragraphe intitulé "Part 3".